Plants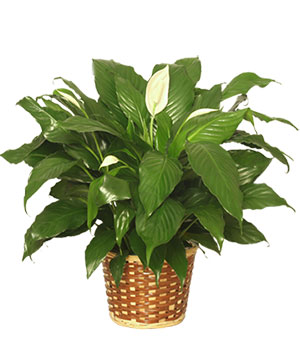 PEACE LILY PLANT
Spathiphyllum clevelandii
The Peace Lily is a popular choice in house plants, thriving in most home and office settings with very little plant care required! It is also one of the few flowering plants that blooms reliably indoors and is oftentimes seen displayed in decorative plant containers and plant stands.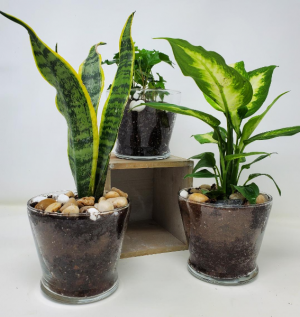 Grateful
Green Plant
Standing tall and rooted in success are attribute you can't deny in your Administrative Professional. Confident decision making, organizational skills, and success of others are just the beginning of the wonderful qualities he or she possesses. Show your appreciation with our Grateful Green Plant. (Plant selection will vary. Call to discuss specific request, if any.)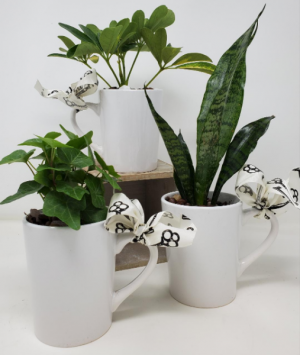 Keys to Success
Plant Mug
Sometimes the key to our success lies in the people we have around us. Maybe they are grabbing coffee or maybe they are keeping things organized. Either way, tell the important people how much you appreciate what they do for you each day with a cute and stylish plant mug. Each of our plant mugs come planted with an easy to care for house plant and, if you look closely, the soil is decorated with pebbles and coffee beans! (Plant selection will vary. To request a specific plant, call us at 869-9890))
Plants liven up the room and are wonderfully enduring gifts that show how much you care anytime of year! Your local flower shop, FLOWERAMA #142 of SPRINGFIELD, MO (MO) can help you choose the perfect indoor plant variety for anyone or any occasion. With just a little TLC, your gift of live plants can flourish and bring continued enjoyment year after year.
Browse our selections for identification of tropical and exotic plants, as well as traditional favorites, like the easy-to-care-for Pothos, Philodendron, etc. Send a living message today with a plant from FLOWERAMA #142.
Plants vary with the change of seasons; however, Flowerama always maintains a large selection of vibrant and colorful plants for any occasion!